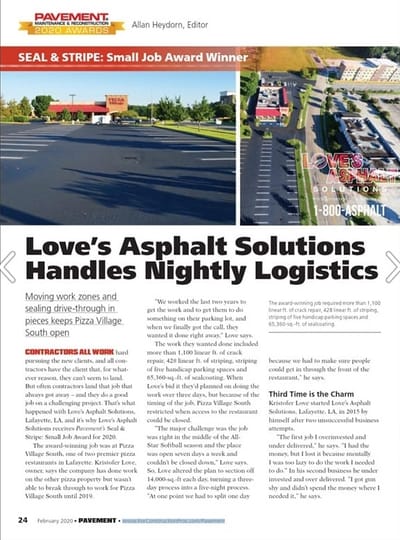 Love's Asphalt Solutions is the recipient of
Pavement's
Seal & Stripe: Small Job Award for 2020.
With only having a full-time staff of about 7 employees- including the owner, sales manager, and bookkeeper, Love's Asphalt Solutions was shocked to hear the news that they would be receiving an award at the 2020 National Pavement Expo and conference in Nashville, Tennessee. So how did they do it? With lots of hard work, blood, sweat, tears, and absolute stubbornness. Owner, Kristofer Love started Love's Asphalt Solutions in 2015 with $600 and a 5 gallon bucket. Now Love's Asphalt works out of an 8,000 sq ft warehouse.
At Love's Asphalt Solutions we simply want to be the best asphalt and concrete maintenance company in Louisiana. We want to earn our community's trust and business with pride and integrity!